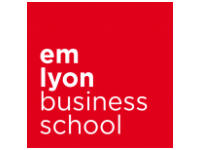 MSc in Sports Industry Management
Ecully
,
Frankreich
Ecully
,
China
2 Jahre
31 / 10
Grâce au programme MSc in Sports Industry Management, emlyon business school répond avec succès aux besoins spécifiques de l'industrie du sport en matière de recrutement. emlyon business school porte une vision globale et internationale sur cette industrie en croissance, ajoutée à une forte expertise en gestion internationale, et des relations très fortes avec certains des acteurs les plus puissants de l'industrie du sport.
Full description
As a student of this program, you will acquire fundamental management knowledge that will form the basis of your profession, specialist skills and techniques essential for success in the sports industry and broad knowledge of the dynamics of this market.
How long is the program?
The programme takes place over 18-months (including a 4-6 month internship)
What will I learn?
Drawing from emlyon's expertise in international sports business management partnering with some of the world's major sports companies this program aims to match young, globally-minded talent with their dream sports career as a result of the MSc in Sports Industry Management master program.
Academic content will include modules in Paris, France like:
Strategic Thinking & Management
General Sports Culture
Data Driven Decision Making & Digital Innovation
Negotiation
Leadership & Ethics
As well as a module in Shanghai, China: Asian Business Environment
These modules are accompanied by "Experiential Elements" consisting of:
In-company projects
Specialized tracks to match your interests
International Seminars (trips to other countries to visit HQs of top sports companies)
Internship (where you could work with names like Nike, PSG, and Adidas, etc.)
Who will I learn from?
Antoine Haincourt: Program Director / Expert Associate
Spent 15+ years analyzing the evolution of brand management working in strategy, consulting, executive training (Group Les Échos)
Served as head of marketing in the sports industry for the past 10 years (ex. Petzl)
Specializes in helping businesses cope with the changing perceptions of customers towards their brands.
Teaches businesses how to have optimal strategies that understand, improve, cultivate and execute innovation culture and branding strategy to stay ahead of competition.
Active venture partner and investor in the sport's tech industry.
Works closely with world-reknowned companies (Nike, PSG, Adidas, Wilson, Under Armour)
Simon Chadwick: Professor of Eurasian Sport and Director of the Centre for Eurasian Sport
Teaches you to navigate the intersection of Sport, Business, Politics and Technology (especially in a Eurasian context).
25+ years of experience in some of the most prestigious business schools in the world
Numerous publications
Previously worked with: UEFA, Coca Cola, Formula E and Real Madrid.
Recognized as being an influential global commentator on current issues in elite professional sports.
Regularly appears on new stations like CNN and Al Jazeera, and provides insights for publications like Forbes and the Financial Times. 
Manages an informational webinar series with emlyon's Shanghai campus
You will also be taught by a number of high-level lecturers who have a strong experience in the sport industry.
What is the schedule for the program?
Year 1:
(August-March): Paris, France
Attend and complete required course work
Paritcipate in company consulting projects
Travel during International Seminars
(April-June): Shanghai, China
Attend and complete required course work
Participate in Shanghai in-company project
Year 2:
(July-Dec): Anywhere in the world
Complete your professional thesis
Participate in a 4-6 month internship with a company of your choice

How do I find my internship?
emlyon business school will give you all the support and tools you need to find the right internship. In the case that you already secure professional employment, you may directly begin working and this will also count towards the professional experience required to get your degree and graduate from the program.

How much does the program cost?
Tuition is €24,900 (2022 intake) + 120€ Application Fee*
*exemptions may apply
Am I eligible for the program?
Students holding one of the following degrees can apply for the MSc in Sports Industry Management:
A validated Master 1 degree or Bachelor's degree equivalent to Bac + 4
A validated Licence 3 degree or Bachelor's degree equivalent to Bac+3 (limited to 30% of the cohort)
What is the application process like?
Application File: includes mandatory documents such as proof of identity, education, transcripts, etc.
Digital Test: includes cognitive and professional role-playing scenarios to see if you match the program and emlyon's "early maker spirit."
Admission Results: after your digital test, you will receive an email as soon as possible to confirm you entry or denial into the program
What career opportunities will I have?
The MSc in Sports Industry Management prepares you for management careers within companies active in sports and outdoor related industries.
Support in your career search and acquisition is constantly provided:
Workshops: Careers workshops help you prepare for your internship search and future career.
Self-assessment tools and individual coaching provide you with the opportunity to prepare your next move into a career in the sports business industry
Sector specific resources including databases with internship and job offers
Events: Over 200 companies visit emlyon business school campuses each year and provide students with continuous access to the professional community for networking with sports professionals and experts from around the globe
Global alumni network: 35,700+ alumni in 130+ countries around the world
Job Placement Statistics:
Time taken to accept job offer:
95% within 6 months
82% signed long-term contract (CDI) within 6 months
Targeted Jobs:
Strategic Account Manager • Social Media Manager • Business Developer • Digital Marketing Manager • Sponsorhip Manager • Product Owner • Project Manager • Account Manager • Technology Strategy and Advisory Manager • Digital Project & Change Manager
They recruit our students
Adidas • Amazon • Boardriders • Columbia • Decathlon • Discovery • Eurosport • FFF • FFT • FIA • Footovision • Havas Sport • Netco Mailman • Nielsen Sports • Nike • OL • OM • Paris 2024 • Patagonia • PSG • Puma • Salomon • Sportfive • Sport Radar • Tencent • The North Face • Ubisoft • Zalando • Etc.