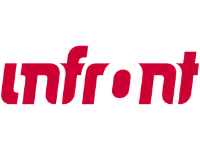 Media Sales Associate Director
Agences Media & Diffuseurs
Temps Plein
1 / 08
Full description
We are committed to bringing passion and customer focus to the business.

Job Summary
Building the big moments - we deliver unforgettable sporting events
Infront is all about sports. Active in more than 25 sports, we cover all aspects of a successful sporting event from the distribution of media rights, sponsorship, media production, event operations through to digital solutions. If you share our passion for sport, we may just be the right fit for you.
We are looking for a Media Sales Associate Director to start as soon as possible.

Job Requirements

​Responsible for media rights sales of the full Infront Group portfolio in selected territories, including:
Fostering the relationship with broadcasters and other key media outlets in the relevant market

Market research of the relevant markets and competitors
Implementing the sales strategy of various events/properties and
Negotiating media rights contracts
Responsible for account management of one or more key Infront media properties. This will include responsibility for:
Rights-in client servicing,
Implementation of contracted services (i.e. sales and rights delivery plus coordination with the media sales team, media operations, production, digital and marketing)
Further development of the client relationship and
Developing and implementing annual budgets of all led projects including the Strategic Planning in conjunction with relevant stakeholders

Support in the further growth of Infront's portfolio, by supporting pitches for new rights, responding to tenders and supporting on rights-in contracts (in close coordination with relevant rights-in / business development / legal unit(s)
Other tasks:
Lead and development of own colleague(s), especially coaching of trainee or project manager (to be confirmed)
Support in regular planning, budgeting and reporting processes
Support Head of Media Sales and Operations in special projects
To some extent on-site presence at events
Educational background:
Advanced education (university degree in business administration / law or similar education)
Experience:
At least 5 years working in sports rights and/or media
Extensive understanding of the media landscape
Proven working relationship with broadcasters and other media outlets, agencies and/or sports governing bodies
Proven experience to generate sales and deliver revenue, leadership experience an advantage
Skill & competencies:
Proven sales skills
Ability to negotiate both rights-in and rights-out contracts
Ability to prepare and deliver presentations to governing bodies for acquisition of rights
Strong team orientation
Ability to work under extreme pressure and tight deadlines
Other requirements:
Sound understanding of sports economics and the media industry
Good to high level of contacts
Dedication to the company & sports
Strong attitude towards quality, excellence in delivery and 'client-first' thinking (external & internal)
Positive attitude towards Infront's company values
Are you ready to contribute to transforming and enhancing every aspect of the sports industry? Unite your passion for sports with a rewarding career by joining our ONE team of talented, highly-motivated and hard-working individuals. Please submit your online application now.
Infront is an equal opportunities employer.