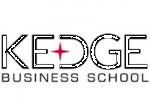 KEDGE Business School
KEDGE is positioned as a multi-specialist management school, relying on expertise with high added value for all its stakeholders, and especially for its students, graduates and partner companies.

KEDGE se positionne comme une école de management multi-spécialiste, s'appuyant sur des expertises à forte valeur ajoutée pour l'ensemble de ses parties prenantes, et en particulier pour ses étudiants, diplômés et entreprises partenaires.
More about us / à propos de nous
KEDGE Business School is a leading French management school with 4 campuses in France (Paris, Bordeaux, Marseille and Toulon), 3 associate campuses in France (Avignon, Bastia and Bayonne) and 4 abroad (2 in China in Shanghai and Suzhou, and 2 in Africa in Dakar and in Abidjan).

KEDGE community is made up of 14,800 students (23% of whom are foreign students), 172 permanent professors (45% of whom are international), 277 international academic partners and 70,000 graduates worldwide. KEDGE offers 36 courses in management and design for students and professionals, and deploys tailor-made courses for companies at national and international level.

Member of the Conférence des Grandes Ecoles and accredited by AACSB, EQUIS and AMBA, KEDGE Business School is an institution recognised by the French state, with targeted programmes and EESPIG label. KEDGE is ranked 34th best Business School in Europe and 41st worldwide by the Financial Times for its Executive MBA.