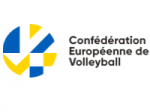 Confédération Européenne de Volleyball
The European Volleyball Confederation (CEV) is the institution responsible for governing 56 National Federations throughout Europe and is recognized as such by the Fédération Internationale de Volleyball (FIVB).
More about us
Our ultimate goal is to promote Volleyball, Beach Volleyball and Snow Volleyball and to raise the status of our sport to a higher level. Whether the game is played indoors, on sand or on snow, Volleyball connects and brings people together – from children playing in their free time up to professional, elite athletes.

We cultivate a strong sense of togetherness with all stakeholders, the Member National Federations, their national leagues, clubs, players, organizers and other partners of European Volleyball, from grassroots level to the top events.

The CEV headquarters are located in Luxembourg City (Grand Duchy of Luxembourg).
The body of staff is continually evolving, currently consisting of 28 employees originating from 17 countries.